Bold Monday

Bold Monday is an independent Dutch type foundry established in 2008 by Paul van der Laan and Pieter van Rosmalen. Our catalog encompasses custom typeface design for high-profile, international clients, as well as state-of-the-art retail fonts for discerning designers. Bold Monday is specialised in creating original, sometimes slightly offbeat typefaces that are always produced with great care and attention to detail.
---
Paul van der Laan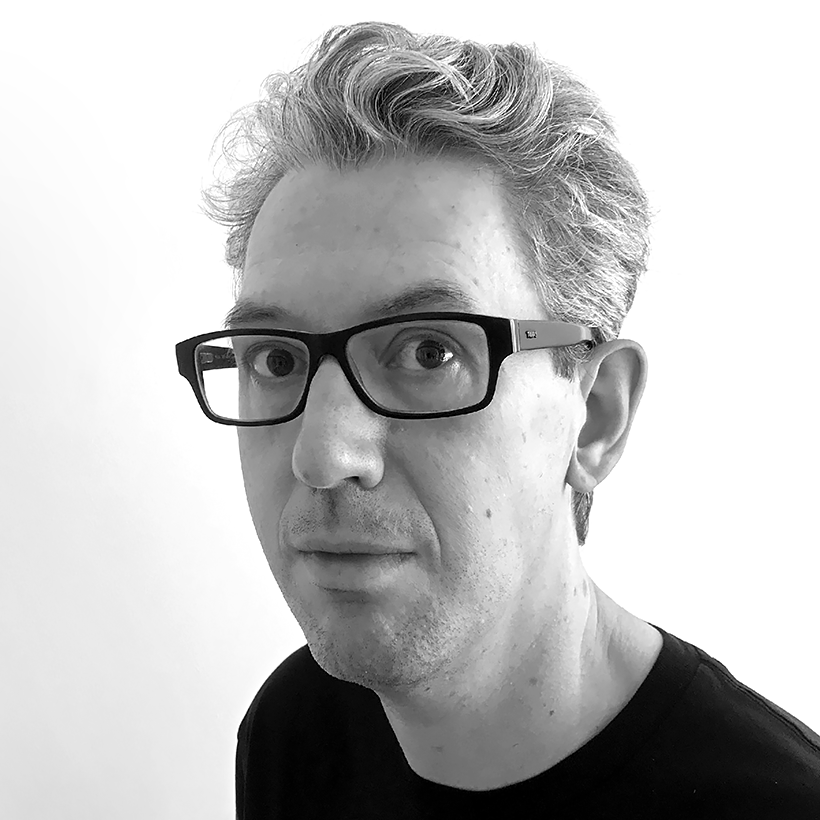 Paul van der Laan works as a designer of type and typography from a studio near the royal palace in The Hague. Since 2003, he has been a professor in type design at the Type & Media masters program at the Royal Academy of Art (KABK) in The Hague. He has given workshops and lectures at numerous schools across Europe and at various international conferences. Paul has designed numerous typefaces and worked on custom type project for clients worldwide, such as NBCUniversal, Audi AG, Autodesk Inc, Banco Deuno and VPRO.
Paul's retail typefaces in the Bold Monday catalog: Feisar, Feisar Express, Flex and Oskar.
---
Pieter van Rosmalen



Pieter van Rosmalen studied advertising and graphic design at Sint Lucas in Boxtel and graduated from the postgraduate Type & Media program at the Royal Academy of Art (KABK) in The Hague in 2002. He runs Bold Monday's Eindhoven office, typically working on ten different typefaces at the same time. He has designed retail as well as custom typefaces for clients worldwide, such as NBCUniversal, Audi AG, General Electric and KPN. One of Pieter's designs is used for street signs in South Korea.
Pieter's retail typefaces in the Bold Monday catalog: Alterego, Aniek, Bilo, Capibara, Dico, Nitti, Nitti Grotesk, Nitti Grotesk Condensed, Nitti Mostro, Nitti Typewriter, Panno Sign, Panno Text, Puffin, Puffin Display and Puffin Display Soft, Puffin Arcade, Rigby and Stanley.
---
Mike Abbink



Mike Abbink is the Executive Creative Director of the Brand Experience and Design Team within IBM Studios. Abbink's design career began almost twenty years ago as a designer at MetaDesign in San Francisco and has since continued an extensive career as a Creative Director for the Museum of Modern Art, Wolff Olins, Saffron Consultants, Method (also co-founder) and as a Design Director at Apple Computer. In addition to a career as a graphic designer Mike has also created robust and award winning typefaces such as FF Kievit, FF Milo, GE Inspira and Brando Serif. Mike continues to design and collaborate in typeface design and has several projects underway.
Mike's retail typefaces in the Bold Monday catalog: Brando, Brando Sans and Brando Arabic.
---
Khajag Apelian



Khajag Apelian is a lettering, type and graphic designer. Having grown up between Dubai and Beirut, and being raised in an Armenian family, Khajag has an affinity for different languages and writing systems, which he has applied to the development of typefaces in many scripts, including Arabic, Armenian, and Latin. He designed Arek, a typeface that was awarded the Grand Prize at Granshan 2010 Eastern Type Design Competition, and was among the winners of Letter.2, the second international type design competition organized by the Association Typographique Internationale. He currently operates under the name debakir, Armenian for printed type, and teaches design courses at the American University of Beirut.
Khajag's retail typeface in the Bold Monday catalog: Brando Arabic.
---
Jacques le Bailly



Jacques Le Bailly landed his first commercial type job while studying Graphic Design at the Royal Art Academy of Art in The Hague. The typographer Rudo Hartman asked him to digitize drawings of capitals for a special publication. During an exchange semester in Germany, he did an internship at Linotype GmbH (now Monotype), for whom he has been doing freelance work ever since. After finishing his studies, he worked as a graphic designer in Berlin. On returning to The Netherlands, he started working for The Enschedé Type Foundry as a type designer, and has been teaching at the WdKA art academy in Rotterdam and Sint Joost in Den Bosch. After three years as a senior designer at Studio Bauwinkel, he started his own company Baron von Fonthausen in 2009 now focussing on type design. Besides his personal projects, he is working for type foundries like Lineto, Monotype, House Industries, and Bold Monday, as well as on custom projects for several brand design agencies.
Jacques' retail typeface in the Bold Monday catalog: Macula.
---
Barbara Bigosińska



Barbara Bigosińska graduated from the Type and Media Masters program (KABK, The Hague) in 2013, with her final project "Mala Type Family". She previously earned a Masters degree at the Academy of Fine Arts in Katowice. During her time at the Academy, she also worked as a teaching assistant (TA) at the lettering and typography workshop. Barbara won a double scholarship from the Ministery of Culture and National Heritage in Poland for her studies in 2010/2011 and in 2012/2013. Since 2014, she runs her own studio in The Hague, offering type design and typography services to international clients.
Barbara's retail typeface in the Bold Monday catalog: Mala.
---
Eyal Holtzman



Eyal Holtzman studied Graphic & Typographic Design and earned his Master's degree in Type Design & Typography at the Royal Academy of Art (KABK) in 1996. Since then he has been active as an independent artist, designer and lecturer. He has been teaching graphic design at art academies in Holland and China, and designed custom typefaces commissioned by leading Dutch companies such as Nationale Nederlanden and Jumbo Supermarkets. Furthermore, Eyal has been working for Bibliotheca Rosenthaliana of the University of Amsterdam on the historic revival of the monumental Hebrew font "Font Amsterdam". Since 2007 he has been co-running the graphic design agency Studio Eyal & Myrthe, specializing in book design and typography.
Eyal's retail typeface in the Bold Monday catalog: Kristal.
---
Wael Morcos



Wael Morcos is a graphic designer and type designer from Beirut, Lebanon and a partner at the Brooklyn based studio Morcos Key. Upon receiving his BA in Graphic Design from Notre Dame University (Lebanon), he spent three years developing identities and Arabic-Latin bilingual typefaces, in addition to working in print and exhibition design. Wael received his MFA from RISD in 2013, after which he moved to New York and worked with several studios in the city before founding Morcos Key. Wael has been featured in Print Magazine's 15 under 30, was named a Young Gun by the Art Directors Club and an Ascender by the Type Directors Club.
Wael's retail typeface in the Bold Monday catalog: Brando Arabic.
---
Shiva Nallaperumal



Shiva Nallaperumal is a Graphic Designer, Art Director and Typeface Designer. In 2018 he partnered with Juhi Vishnani to form November, a plural design practice focusing on the intersection of design, culture and typography. As a typeface designer Shiva has published or worked with Typotheque, Bold Monday, Sharp Type and Lost Type Co-Op. In 2017 Shiva was one of Forbes India's 30 Under 30, the first graphic designer to be selected. He also became one of the first Indians to be inducted into AGI (Alliance Graphique Internationale) in 2019.
Shiva's retail typeface in the Bold Monday catalog: Rekall.
Diana Ovezea



Diana Ovezea is a Romanian-born type designer and typographer currently living in Amsterdam. She graduated from the Type and Media Master program at the Royal Academy of Arts, The Hague, in 2013. Since then, Diana has cooperated closely with Bold Monday on multiple retail and custom projects. Diana runs her own type design studio in Amsterdam, working for local and international clients. One of her main focuses, aside from creating new type families, has been quality assurance in the type designs of other foundries and designers.
Diana's retail typeface in the Bold Monday catalog: Quinn Text and Quinn Display.
---
César Puertas



César Puertas studied graphic design at the National University of Colombia and graduated from the Type & Media program at the Royal Academy of Art (KABK) in The Hague. He is currently an associate professor at Universidad Nacional de Colombia and works as a graphic designer and typeface designer out of his design studio Typograma in Bogotá. In 2012, he won a certificate of excellence in type design from the Type Directors Club for his typeface for La República. He is a member of ATypI and its country delegate for Colombia.
César's retail typeface in the Bold Monday catalog: Buendia.
---
Aleksandra Samuļenkova



Aleksandra Samuļenkova studied visual communication at the Latvian Art Academy in Riga and at Kunsthochschule Weißensee in Berlin, where she took a type design course with Luc(as) de Groot. In 2012 Aleksandra graduated from the Type and Media master program at the Royal Academy of Art the Hague. Aleksandra's graduating project Pilot has won the first prize as a titling face at The Fine Press Association's inaugural Student Type Competition, and received a "Certificate of Typographic Excellence" in the 2017 TDC Typeface Design Competition. From 2012 until early 2017 Aleksandra worked as a type designer at LucasFonts in Berlin. In the beginning of 2017 she moved to the Netherlands to work independently.
Aleksandra's retail typeface in the Bold Monday catalog: Pilot.
---
Florian Schick



Florian Schick studied graphic design at the Royal Academy of Art (KABK) The Hague, The Netherlands, from which he graduated with distinction in 2010. In 2011 he successfully completed his Master Degree at KABK's postgraduate Type & Media program. Together with Lauri Toikka, he runs a type foundry and design studio in Berlin that specializes in type design, art direction and graphic design for both digital and print media.
Florian's retail typeface in the Bold Monday catalog: Trio Grotesk.
---
Jasper de Waard



Jasper de Waard is a scientist by day and a type designer by night. He was introduced to typography by the books of his father, published his first font when he was twelve, and interned at Dalton Maag when he was sixteen. Shortly after that, he started a one-man type foundry: Bureau Roffa. He studied Social Science at Amsterdam University College, followed by a master's in Cognitive Neuropsychology at the Vrije Universiteit Amsterdam, where he is a PhD student since 2020. In his current work, he puts unknowing participants through tedious experiments in hopes of finding out something about what goes on inside their brain.
Jasper's retail typeface in the Bold Monday catalog: Goldich.
---
Edgar Walthert



Edgar Walthert is a type and graphic designer based in Amsterdam. In his home country of Switzerland, Edgar was introduced to calligraphy, woodcut and pottery by his father, who was trained in a monastery. After graphic design study in Lucerne and work at a multi-disciplinary design studio in Hamburg, Edgar graduated from TypeMedia and founded his own studio in the Netherlands in 2008. For many years he assisted in the extension of the Taz family at LucasFonts in Berlin. Edgar currently is a member of the Bold Monday team, and organises letterspace.amsterdam, a monthly series focused on diverse approaches to type in the local community.
Edgar's retail typeface in the Bold Monday catalog: Logical.
---
This website

UI/UX-design: Bureaudonald
Technical realisation: Unwind
Drawbot wizard: Nina Stössinger
Text editor: Indra Kupferschmid
In use illustrations: Barbara Bigosińska
THANKS ALL!